50 Best Free Handwritten Fonts For Graphic Designers.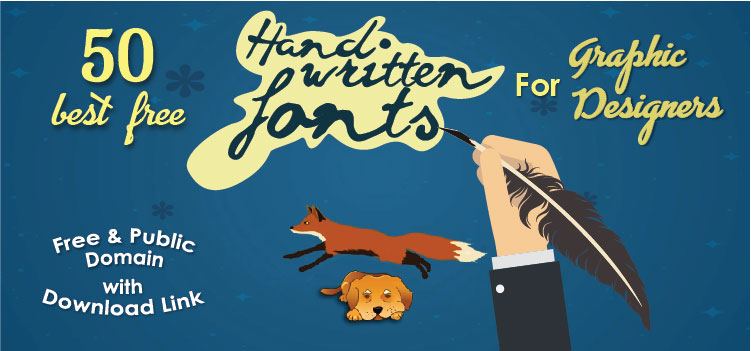 See our other font list published earlier
To save time, you can take a pen/pencil and see the font you like in our video below and note them down.
The animation video above contains all the fonts listed here. Get a pen/pencil and note down the ones you like.
Peak font: The font is another great shaped handwritten font worthy of decorating various graphical designs such as Wedding cards, gift cards, banner for cultural activities, posters, cover pages, and more. This is absolutely a free font for using personally and commercially. It has the capability to grow the quality, attraction, and overall acceptance of the artworks.

Kevinwild: It is also a 100% free font for any type of use. You can apply in your individual designs and money making artworks as well. This font increases the image good attitude that creates a positive impression. Such a gorgeous font is apt for applying in various graphic designs.

Estirada font: It is also a public domain thin handwritten script that can be used anywhere in any design without any fraction of monetary requisition. The font is very suitable for creating the great graphical artworks. So, the designers can take this type face for utilizing in any graphic designs and the font must enhance the beauty, attraction, and overall quality of the images.

Quickline font: Another fabulous font face is Quickline font which is outstandingly a monoline hand type font. It has a hand drawn design style that highly suits with poster, branding, logo, wedding card, etc. The font easily can attach the feel of hand type design style in your design.

Easy-speech font: Easy speech handwritten font is completely free for the graphic experts who can utilize the font anywhere they desire. This font has a great typeface that will enhance the overall beauty of your designs. It includes numerous glyphs, icons, and symbols. It supports multi language and better kerning is available.

Soljik-dambaek: For commercial and non-commercial uses, you can use this font without any cost. This font is suitable for designing various cards, poster, banner, product packets, logo, T-shirts, and many more. You can also use this font in any designs where you want.

Dangoweek font: What a wonderful cartoonic handwritten font it is! The font is totally free for applying in any graphic design of the graphic experts. They can add it in all of their non-commercial and commercial graphical work with a purpose to enhance the beauty and overall quality. This font can be utilized for designing logo, poster, school books, comic book, and many such types of artworks.

Alpha-mack font: From the horde of the most downloaded fonts, it is one of the best selection typefaces for the graphic designers. The font is worthy of using cost free in any individual and profitable business purpose designs. The font is perfect to apply in various cards like wedding, gift card, inviting card, visiting, banner, poster, T-shirts, and many more. It has a good amount of glyphs that can add special effects in your designs.

Vinc hand font: Joebob Graphics has produced this awesome font which is absolutely priceless to be used in any graphic designs. So, the graphic design guys can use this font in any artworks. The touch of this font will include special charm to the graphic designs. You can apply this typeface in the case of designing various types of cards, clothes designs, poster, cultural banner, leaflets, logo, creation, and more.

Apes-on-parade: It is also another great font face in this collection. Globally recognized graphic artist are using this font hugely in their designs. Because this font is available free for designing personal and non-profit making designs. So, you also can utilize the font to enhance the quality of your text based graphic designs.

Download Font
In fine, it is worthy to mention that all the handwritten fonts in this collection are free and the designers can use the fonts in any of their great designs. According to the projects' need, you can take any fonts that must add the special charm and beauty, and thus all of these fonts can be very profitable to gain the deserved appreciations
: Clipping Path, Graphics Design, Photo Editing, Photoshop, Tutorial