Photography in the car industry is not only very important, but also is an essential part of the industry. Every time a company launches a new model of automobile, they publish attracting photo of them first. Those photos are so amazing that it draws everyone's attention towards them. The reason that they get to hold our attention is the photography and excellent automobile photo retouching in Photoshop.
Image retouching is pretty self-explanatory in its literal meaning. It is the aftermath of taking the picture regardless of its being bad, very bad or not good. Not always, professionals succeed to take the perfect snap. Depending on the lighting and the condition photographs can have different side effects. No matter how deft the photographer is, sometimes it's not just possible to get the perfect shot. But that doesn't mean it's not possible to achieve the result that we want and to do that we need photo retouching.
Why Automotive Photography Retouching is Important
Nowadays image editing becomes too important in automobile industries. Customers are actively opting for different online platforms to purchase cars and other types of vehicles. This is where marketing strategies matter a lot. A pleasant online presence is deemed as a great source where you showcase your products and get more new and regular visitors.
The world's automotive industry has become quite competitive over the years. Every car manufacturer wants to have the full attention of their potential customers. In this competitive industry, everyone needs to focus on their business goals to outshine their competitors. And to shine in the automotive industry, you have to insights on the Photographs of the vehicles, cars. Car photography plays an important role in automobile sectors. This is the single most important thing to consider when it comes to car branding and marketing. For example, look at the sample photo below.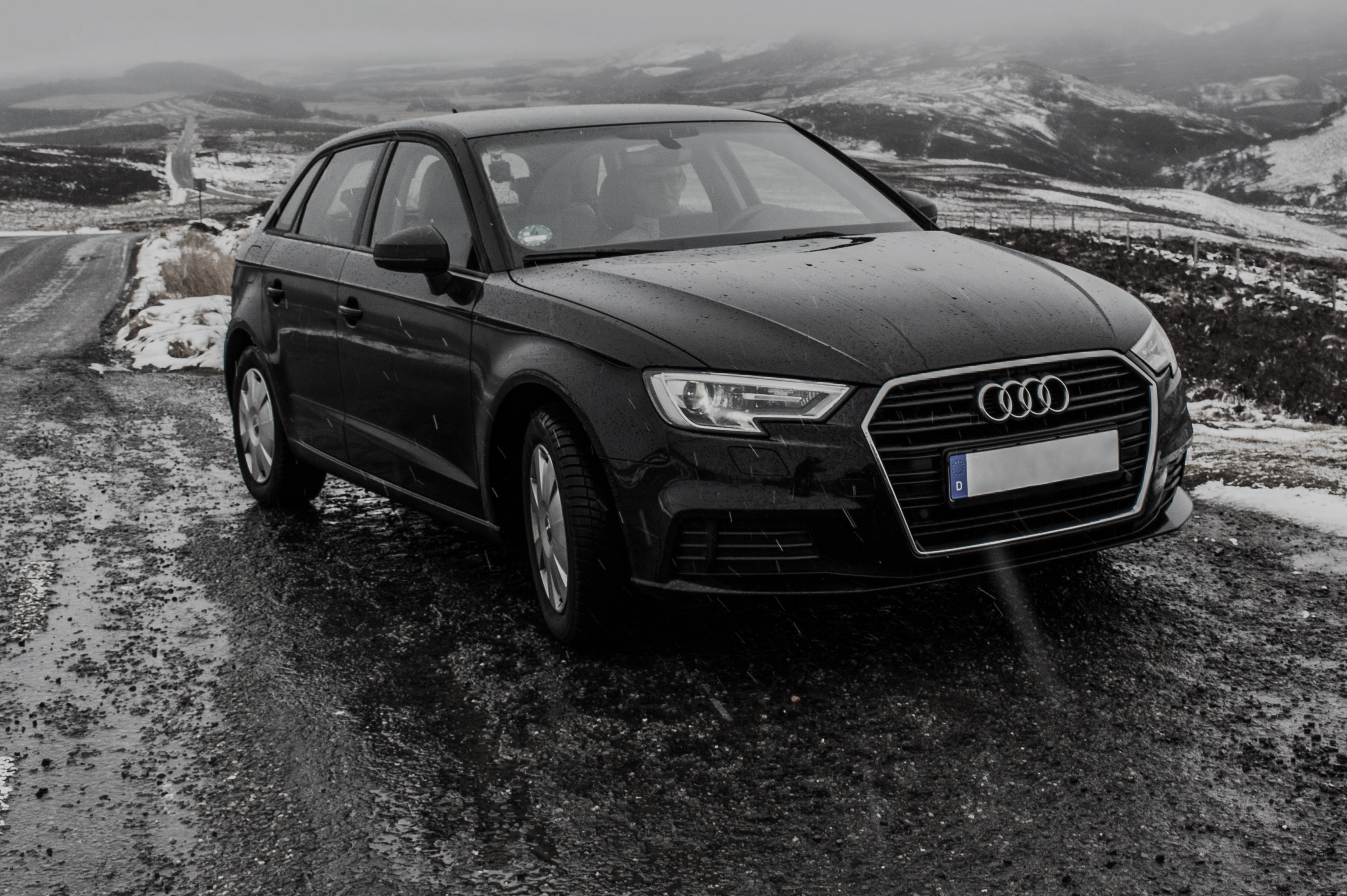 Unedited photo
If this photo of the car were to display on the billboard of a busy city center, how many people would be attracted to the car? You guessed it, not so many. The reason behind this conjecture is the aesthetics of the photo and how it's been edited and whatnot. Now, look at this one.
Edited photo
What do you think? How many would fall for this one? You get the point! Anyways, Automotive Photography Retouching service is one of the important branches of graphic designing. Car retouching services exhibit tremendous visual effects with the car and help to enhance the true quality and clarity of an image. There are certain aspects of retouching services that make a car look appealing to the eyes. Color corrections, reflections, shadows, sharpness and background replacement are some of those aspects. Through these services, we can easily overcome the limitations of photography. No matter how deft a photographer is, it always needs to be retouched and edited. And in the case of automobile, car photography retouching has a higher significance than anything related to marketing.
Our automobile photo retouching services
At Color Experts International, Inc., we have the best automobile retouching services in the photo editing industries. We have a professional team of 200 members on board to help you get the best result. With razor sharp eyes and pinpoint accuracy our professionals are always focused on making your product look better. Our expert image manipulators are highly skilled at giving your car photos a dazzling retouch. Followings are the list of services that we provide regarding car photo retouching.
Automobile Image retouching
We shine at making the best visually pleasing automobile photos that easily connect you to your audience. The provisions from our company in this regards includes a wide variety of innovative and constructive processes.
◾️ We enhance color, add sharpness, tweak contrast and make the photo more alluring
◾️ Adding missing parts like tires, side parts and many more
◾️ We clear scuff marks, dust, scratches and other untidy temporary elements from the pictures.
Automobile Focus staking
This is a special image processing technique. In this process, we combine multiple images taken at from different angle and different focus distances so that it can give you a greater depth of field effect than any of the individual source images. This is especially necessary when you need to focus all the part of your car and also expose the background accordingly. Our creative graphic designer does this task with masterful craftsmanship.
Automobile Image Clipping
We use various sophisticated strategy to ensure the subject is trimmed out from the background of a photograph. In effect, this will make the automobile appear more appealing to the prospects. Sometimes the background is not well suited and not as frenetic as it should be to compliment the photo. To achieve this, we go through a series of concrete technique. This, by no means an easy task to pull up. As the picture may contain rough edges, uneven surfaces, it will take an earth load of effort and a considerable amount of time. We have the caliber and more importantly relevant skillset to ensure it meets our client's satisfaction through our Image clipping service. We have categorized our automobile image clipping path service based on the image complexity and those are as follows:
◾️ Complex clipping path service
◾️ Moderate clipping path service
◾️ Simple clipping path service
Automobile Image color correction
No matter how deft a photographer is, there are always chances to suffer from various density issues from color to tone to the background, along with other unwanted elements that get captured in an image. We have all the sophisticated technologies and skill set to overcome all types of density issues and achieve the desired results.
Automobile image manipulation
Image manipulation is one of the most creative and time-consuming process of image editing. Among all the other important aspects, image manipulation plays the most important role in automobile industries. Automobiles, which are featured in company brochures, advertisements, presentation ceremony, magazine covers, need extra creative touch to allure and hold the attention its prospects. To deliver these results we have all the necessary technologies and creative designers to carry out the task as well as live up to our customer's standard of needs. The work that we do in image manipulations:
◾️ Eliminating unwanted or inappropriate backgrounds
◾️ Adding attractive backgrounds
◾️ Adding and removing brand details
◾️ Retouching of grounds or exchange of floors
◾️ Mirror clearance
◾️ Creation of shadows
◾️ Editing of interior parts
◾️ Missing details in backgrounds
◾️ Enhance the color according to the color science
Raster to vector conversion for automobiles
Raster to vector image conversion is becoming popular day by day. Some limitations of using a raster image are that it's a pixel-based photo generation process, so whenever you are trying to use it in a flexible application it breaks apart. This type of image can't be stretched without being distorted. So in the case of logo making and other uses like resizing for posturing and bannering, we can't use raster. That's when a conversion is needed. We do everything at our disposal to make your image exhibit amazing visual appeal to captivate the viewers. We work on a wide range of vehicles including cars, motorcycles and even aircraft. Raster image to a vector can be classified into some categories such as-
◾️ Raster images like JPEG, PNG, PSD, TIFF, PDF etc. to vector conversion
◾️ Vector line drawing
◾️ Vector art work drawing
◾️ Vector floor plan drawing (CAD Drawing)
◾️ Vector interior plan drawing
◾️ Vector map drawing
◾️ Vector product drawing
◾️ Vector logo design service
Who needs this service?
If you are a professional automobile photographer snapping 500+ photos a day and need professional quality car retouching services, then you are warmly welcomed to our province. Car dealers with different business sizes are also in need of these services. Dealers who are dealing their businesses with old cars are especially in our concerns. We provide old car photo retouching services and we also have automotive photo retouching services for car dealers. From a small to large corporate businesses we have extra benefits and offers to choose from. Magazines which concentrate on car news and other automobiles and need a professional quality brand new car photo retouch, we are here for you. Apart from these we also provide our state of the art services to advertising agencies, ecommerce businesses involving automobiles cars and other parts. To know some of our bulk photo editing offers, send us a quote request and we will connect shortly.
How we do it
At Color Experts International, Inc. we have more than 200 in-house creative graphic designer and car retouching specialists. They are very keen on making their project look appealing. They have sharp eyes for details. On top of that to support their creative approach to automobile photography, we provide sophisticated technology and cutting-edge software. We use the latest version of Adobe Photoshop to retouch cars and Adobe suites to carry-out the task. For more complex tasks like complex clipping path and complex masking, we use pen tablet for pinpoint accuracy. We developed a strategy among our designers to produce work in a planned manner so that we can get the best out of our resources. What we value the most is our customer's value and trust. To live up to that promise we have developed a very strong culture which over the last three decades serves us well and keep us growing.
Our offers and benefits of choosing us
From bulk discounts to compact packages, we offer various benefits to our customers. Here at Color Experts International, Inc., we offer the best automobile image manipulation when it comes to retouching brand new car photo retouching or old car photo retouching. Here is a list of advantages of choosing us over others, but this list is by no means is limited to the following.
◾️ We remove glare as it can degrade the vibrancy of a picture.
◾️ We add or remove watermarks and are adept at adjusting brightness and reducing noise.
◾️ We ensure complete data security and confidentiality of your pictures.
◾️ Quick turnaround time
◾️ Latest Cutting edge technology
◾️ Highly experienced and skilled professionals
◾️ 24/7 customer support and assistance
◾️ Competitive rates
◾️ Proven methodologies to deliver quality services
◾️ High volume discount
◾️ Rush delivery service
◾️ We produce 500 image edits per day
Color Experts Digital, Inc. (CEI) is a professional bulk photo editing service company with over three decades of experience in digital photo retouching services. As a highly experienced outsourcing photo editing company, we have more than 200 excellent in-house designers who are highly skilled at what they do. From Digital Makeover to clean dust from your product photo, we provide an endless range of photo touch-up services. Some of our other services include clipping path services, photo restoration service, creative photo manipulation, wedding photo retouching, real state photo editing, and vector illustration and conversion service.
We have worked for various famous magazines, brochure/ catalogs, e-commerce sites, advertisements, company branding etc. It requires a great deal of high end quality results to meet their expectations and to do so, we use state of the art technology such as pen tablet (Wacom) making sure to deliver the result with pinpoint precision. Although we listed some of the services above if you don't find the service you want, then feel free to contact us.