Price Starts From
Per Image
Get Big Discount
Contact us
We Can Deliver
2500+ images in 12 hours
Clipping Path Services - Price Starts from $0.49/Image
Do you have loads of images with improper backgrounds? Thinking about how to get rid of them? We have a complete solution to your drawbacks. With our clipping path service, we can cut out your inappropriate image backgrounds flawlessly and bring out an outstanding output. Our pro and accomplished clipping path experts make use of the Photoshop pen tool and draw a path around an image subject to eliminate the background. We have a number of clipping path service categories including basic, simple, medium, complex, multiple, and super-complex that we provide based on the image complexity.
As a matter of fact, our lead time is 12-24 hours and we are capable of delivering 5000 images/day. Currently, we are running a "First Order Free" campaign on product photography. Feel free to order for clipping path service for your valuable product photos having unfitting backgrounds.
My Art Director looked at several images and said that you guys did an AMAZING job on these. Exclusive clipping path service from Color Experts International, Inc. THANK YOU! :)"
Clipping Path Service Categories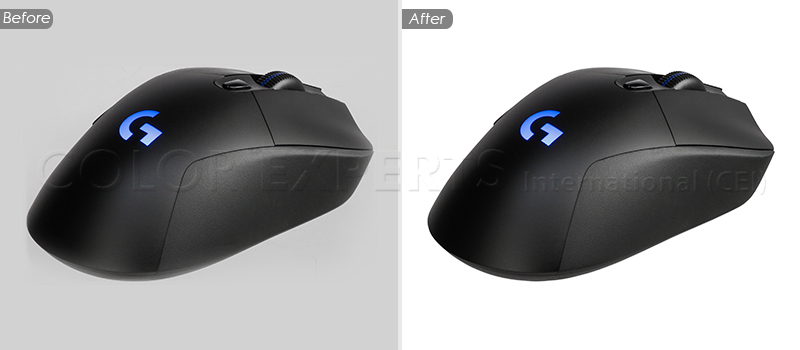 Start From - $0.49/image
Basic clipping path is mainly applied on products appearing straight, rectangular, square, round, and oval. It's an elementary category in which products don't contain any hole. Among the products that come under this category, book, cup, monitor, mobile, ball, egg, etc. are worth mentioning.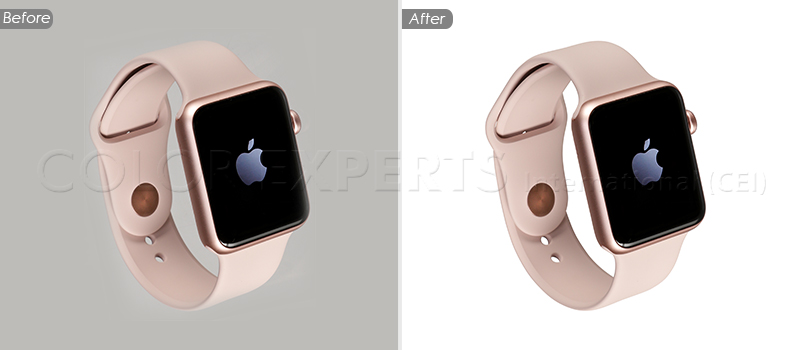 Start From - $0.99
Simple clipping path is utilized on straight, square, rectangular, round, and oval products too. But the core difference between simple and basic clipping path is in the existence of hole. In simple clipping path, products show up with holes. Shirt, pants, watch, glass, ring, are some of the examples of simple clipping path.
---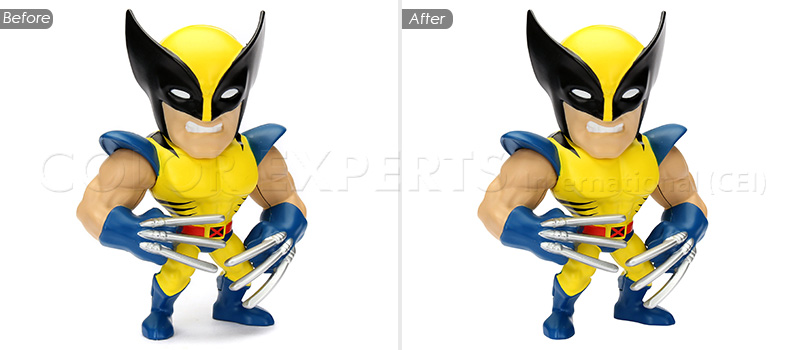 Start From - $1.99
In medium clipping path, products contain several holes, unlike simple clipping path. In addition, the products also show up with a higher number of anchor points, meaning the curves and twists are more. Products like bracelet, shoe, knick-knack, engine parts, set of watches, etc. come under medium clipping path.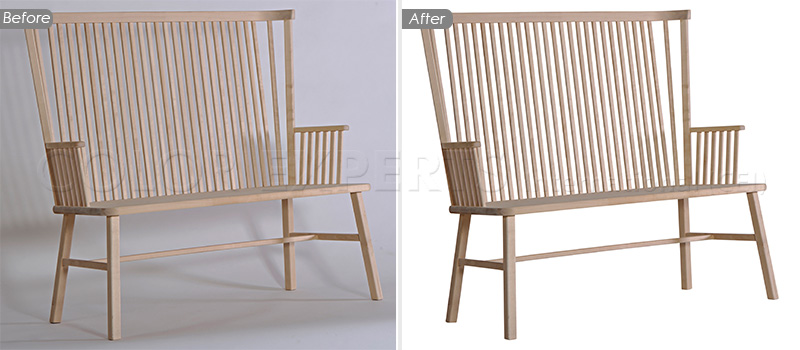 Start From - $3.99
Complex clipping path as the name appears is used for products having complex shapes and designs. Generally, products having many holes (Over 10) and many closed paths fall under the category of complex clipping path. Products under this method include necklace, chain, net, furry doll, chandelier, tree, building, etc.
---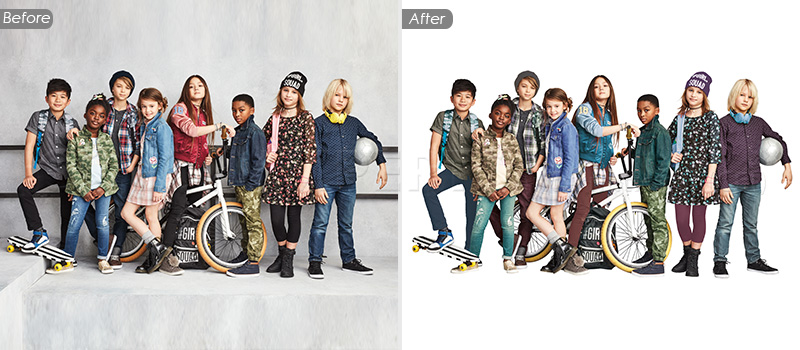 Price Start From - $3.99
Multiple clipping path is for those types of images that require creating multiple or many paths. This method also allows outlining the patterns and edges giving the customers an opportunity to create multiple images of the same product. For instance, if there is a model wearing shirt, pants, cap, and a pair of shoes, we will create a separate path for each of the items. These pieces of clothes can be distinctly outlined giving the impression that they are different products.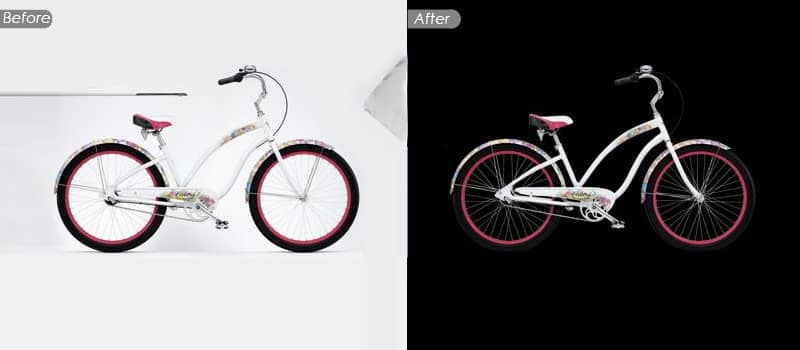 Start From - $7.99
This is the final category of clipping path service and is employed in images having very complex products. Many images appear having countless anchor points and paths. This is exactly where super-complex clipping path is applied. Bicycle, motorbike, motor car, group of people, collection of food items, set of jewelry, etc. can be considered some of the examples of super-complex clipping path. This method is very laborious and time-consuming to apply due to the excessive intricacies of products.
OUR POPULAR SERVICES
Our focus is highly on perfection and we bring out a stellar output while offering all our services. We lure clients from across the globe and our major clients come from the world's top-ranked brands. We avail of futuristic technology and the best of photo retouching software to cater to our valued clients. This is what enables us to stand out. Glance through the carousel below to know about our popular services.
---
What is Clipping path?
Simply put, clipping path is a method of eliminating an object from a 2D image by drawing a path over the edge of the object. Generally, the method is applied to remove the background from an image. Our deft photo editors make use of the pen tool from Adobe Photoshop to take away the incompatible background from an Image. We, however, also offer a clipping path as a service to cut out image background.
Categories of Clipping Path Service?
As stated above, we offer clipping path service in total of 6 categories based on the image complexity. Skim through them in the list below.
-Basic
-Simple
-Medium
-Complex
-Multiple
-Super-complex
How does the image end up in terms of quality?
Quality! It just appears magnificent and eye-soothing after accurate path drawing by our adroit professionals.
Who needs clipping path service?
Anyone having scores of images requiring to cut out their backgrounds can avail of this service. But specifically, photographers, retailers, website owners, e-commerce store owners, prepress companies, post-production services agencies, graphic designers, photography professionals, advertising agencies, photoshop services companies & individuals, and online stores requiring engaging and unique images can take advantage of this particular service.
Why clipping path?
Clipping path service can benefit you in a number of ways. Take a look at the list below to learn the usefulness of the service.
- Unwanted background removal
- Creating transparent background
- Reproducing image with a fitting and elegant background
- Optimized presentation
- Quick way of achieving brand awareness
- Diversity and higher chances of success in marketing
- High-quality image output
- Reasonable Cost
- Fast, reliable, and efficient service
- Easy to utilize

Frequently Asked Questions(FAQ)
---
1
Can you provide clipping path service fast?
Ans: Yes, we provide clipping path service overnight for the basic type of product images.
2
Can I get rush clipping path service?
Ans: Yes, we offer rush clipping path or any other photo editing services. It is negotiable. Contact us.
3
Do you offer bulk clipping path?
And: Yes, you will get bulk clipping path service. We can edit 5000+ basic types of images.
4
What are the product images for the clipping path?
And: We provide clipping path for all types of eCommerce product images.
1
Is only clipping path enough for producing stunning photos?
Ans: No! The clipping path is a selection process of any portion of an image. After that, some other techniques are applied to make a product photo outstanding.
2
What software do you use of the clipping path?
Ans: We use the latest version of Adobe Photoshop for the quality clipping path.
3
Will I get manual editing?
Ans: Yes, we provide a 100% hand-drawn/manual clipping path service.
4
Can I get a clipping path service for the image of a transparent background or Png format?
Ans: Yes, we apply the clipping path on all image formats including transparent background, Jpg, or Png format.
5
What if I don't get a quality clipping path?
Ans: No worries! We have six steps QA personnel who ensure the best quality clipping path service. Yet if something unexpected happens related to quality issues, we revise and ensure high quality.