Photoshop Image Masking
100%
High Quality
We can deliver
2,500
images/day
Price starts from
1.49$
Per Image
Discount Upto
50%
on bulk order
Photoshop Image Masking
Image masking has many types of uses. Some advanced uses for background removal are discussed here. For soft edges of an image like human hair, furry clothes, doll etc. photo masking technique is applied in combination with the clipping path technique to remove or replace the background of the photo. For hard edges, clipping path technique is used; for the furry or soft edge, masking is used. In the situation, where it is not possible to grab more accurate details of soft edges with the clipping path technique alone, photo masking method is called upon to isolate the object from the background.
This is another method we apply for the product or object that has the closest colored background to that of object color. To separate the product from background with natural soft edges, we use Pen Tablet (Wacom). With this method, we can easily blend the hard area and the soft area. Accuracy of the product edge blending depends on the airbrush size and sketching pressure. Before onboarding as a customer, you can try us for free. Hit the free trial button below!
Photoshop Image Masking Service Categories:
Layer Masking:

High quality manual Photoshopping by hand. Masks are applied directly to layer using soft & refined edge with pen tablet. Use it to remove background or isolate object. Price may vary based on complexity & time needed.
Alpha channel Masking:

Separating object from background, we save it as Alpha Channel to edit brightness, contrast, exposure, etc. later. Its file size is lighter for uploading/downloading. Single colored background is perfect for this photo masking.
Fur & Hair Masking:

Separate hair & fur from background, pen tablet for soft edge, etc. If needed, we apply color, brightness, contrast, exposure correction, etc. to make objects natural. Photo Masking is more effective than clipping path on hair.
Refine Edge Masking:

Selecting an image by Quick Selection tool in Photoshop, we apply Layer Mask & Refine Radius tool to make the soft edge. It makes hair, fur, furry doll, blanket, fabrics, animals, trees, etc. images more natural.
Transparent object Masking:

The objects glass, car glass, regular spectacles, glass bottle, water, etc. have 0%-5% opacity & light can pass through it. To retain transparency & make visible color or background through objects, this masking is applied.
Translucent object Masking:

Sunglasses, frosted glass & paper, plastic bottle, fabrics like muslin, bridal veil, etc. are translucent objects with 5%-100% opacity get the service. Little light pass through the objects & images are fuzzy to identify.
Object Masking:

In Object masking, unsuitable part of an image is selected with the quick selection tool and then removed by applying masking using the layer mask. Object masking is very much useful for removing deformations of images.
Color Masking: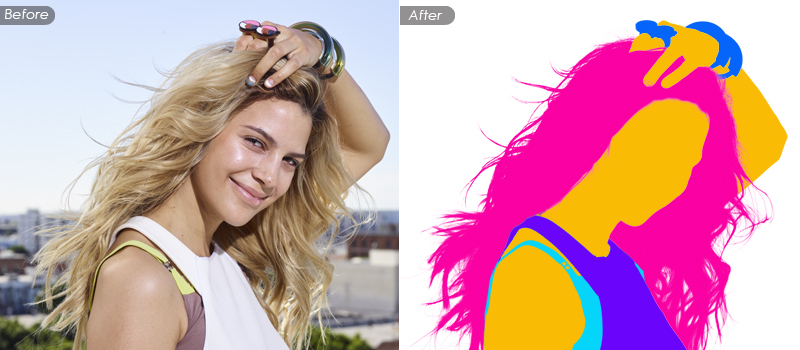 To avoid the hollow line, cutting an image just across the edge or outline instead of 1 or 2 pixels inside is color mask. The designers later apply various effects like color & exposure correction, retouching, etc.
Our specialty
Our expert graphic design team uses pen tablet (Wacom) for hair, skin, fur, clothes with soft edge to change color tone, image exposure, brightness, contrast etc. We work for world famous magazines, fashion houses, e-commerce websites, advertisement agencies, product and model photographers and so on for providing image masking service by using Pen Tablet (Wacom).
Our Popular Services
With 30 years of experience, CEI has been providing best quality bulk professional photo editing services with excellence. Wit a perfect blend of skill, experience, dedication, and consistency, we offer a wide range of photo editing services that can assure you the perfect quality . Have a look the service that you really want.
Testimonials
Over 10,000 photo editing clients all over the world, some of them speaks for us!
CEI has been providing me clipping path services for a long time. The quality and turnaround time are second to none. I recommend CEI for superior Clipping Path and top-notch Image Manipulation Services at very very reasonable cost.
As a digital photographer, I've relied on color Expert many times for high quality clipping path, completed and delivered overnight. My clients demand fast service and Color Expert help me deliver it.
"I use Color Experts on a regular basis to clip my images and place them on a white background ready for use on my website. I am always impressed by the quality of the work which helps to show my website at its best. The quick "turn around" time is vital in helping us to keep our online product catalogue fresh and up-to-date."
"I had shot some peewee league football players and was going to select them all out – individually and make one big team collage... Color experts clipping service was awesome!! Saved me MANY hours of work – especially since that is not typically what I do and selecting out takes me longer than an expert :)"
Hello to you and your wonderful staff!
You and your company has provided excellent service to me at an excellent price for many years. I wanted to let you know how much I appreciate your professionalism and excellence in the quality of work you provide.