Over the years, the graphic design industry has evolved with the invention of state-of-the-art technology and tools. Motion graphics and animation are phenomena and they are also the latest incorporation in the field of graphic design. Motion graphics is highly utilized by businesses to showcase a particular idea, generate awareness, and also to engage potential clients with their products and services. Currently, companies don't just add motion to graphics rather they also supplement audio, voice-over, as well as other visual effects and produce animated videos.
Animation is an excellent medium to narrate imposing stories and scale up viewers. Apart from it being used in educational and recreational purposes, its impact on business promotion is extensive. By availing animation, a company can produce compelling and innovative videos pertaining to its products or services. If the animation produced contains humor, creativity as well as quality, views will automatically creep up, thereby promoting the company's products or services.
If you are contemplating to translate a complex idea into a simple one and looking for a video format, the best format is motion graphics. Motion graphics is actually a crossroad between graphic design and animation. It is a sophisticated objective-driven technique with a view to putting forth information and graphics such as texts, symbols, shapes, lines, etc. animatedly. Motion graphics not only portray visual splendor but also beef up engagement. A motion graphic designer is fully independent of his reflections about his idea and can run wild to produce his data. However, it is also a fact that those who are not specialized in motion graphics, they will find it challenging.
Overview of Animation:
If you are wondering about a medium that can bring fantasies into life and take you to the life of fantasy, it is animation. It is a handy method that you can avail to connect the people which writing and live-action can't. The demand for animation has escalated excessively due to its ability to reflect unrealistic events that we can't fathom and visualize. Teachers use this phenomenon in education whereas children watch animation as a source of diversion. On top of that, businesses take advantage of this wonder in branding and circulating products and services through explainer videos. But all these will pay off if the animator is deft in his job and knows how to create a bewitching animated masterpiece.
Difference between motion graphics and animation:
If you are a newbie in the field of animation, you will have no idea about the distinction between motion graphics and animation. Many people just muddle up both these concepts. But the fact of the matter is that there is an obvious difference between the two. There are umpteen visual contents which are the amalgamation of both motion graphics and animation. The most confusing point about these two terms is the way they are used by motion graphic designers and animators. In motion graphics, pieces of data such as objects, shapes, symbols, texts, etc. are given movement which is actually animation.
On the other hand, broadly, the animation is an umbrella term for the entire moving imagery including cartoons and claymation. Animation focuses on the storytelling aspect whereas in motion graphics, graphic elements are brought to movement to outline an idea. In terms of expense, motion graphics is inexpensive as it is facile to produce and also a simple form of animation. Contrariwise, animation in the form of photorealistic CGI, stop-motion technique, hand-drawn or painted artwork will cost a fortune.
Advantages of Motion Graphics in Product Promotion:
In this competitive age when every company strives to flourish and outstrip the rivals, motion graphics are a perfect tool for them to utilize and level up their businesses. Visuals are always eye-catching and are likely to catch the attention of the viewers. When visuals of products are given movement with the application of creativity, it is likely to prompt branding, thereby redoubling the sales. If you are looking to scale up your website traffic and engagement, motion graphics are second to none.
Persuasive Visuals: When it comes to remembering a concept or a message, visuals are the supreme medium that businesses can take advantage of. Naturally, visuals lure us more as opposed to texts. But visuals in the form of drawing, diagram, and photograph are clichés and so to stand out in the market, innovative and outstanding visuals need to be availed. Motion graphics is the perfect choice to create imposing and noteworthy masterpieces.
Catchy Designs: Motion graphics allow you to manipulate your designs as you wish. You may be visualizing a creative design today which can turn into reality tomorrow with the utilization of motion graphics. You can make use of different types of graphic elements such as objects, shapes, symbols, texts, etc. and animate them to spice up your designs. This will not only enable you to convey your message but also promote your business strongly.
Brand Appearance: How you approach your audience as a brand matter profusely to create an impression on their mind. The remarkable thing about motion graphics is that you make your visuals consistent with your brand without any hassle. The color balance, motion flow, appearance of each element of your design, you can tailor as long as it aligns with the brand identity. Besides, motion graphics appear more formal as it's not character or cartoon-driven like animation.
Integration with other Styles: One of the handy but less evident benefits of motion graphics is that you have the freedom to merge and mingle it with some other video styles such as live-action video, character animation, whiteboard animation, 3D animation, etc. For example, a company may have 2 software tools not talking to each other and requires integration. Now, a third-party service provider can sell SaaS product to the project manager of the company to integrate the tools. To do that, you can make a promotional video starting with a cartoon character and highlight the pain point: that is no communication between the software tools. Following that, your video will transition to the motion graphics segment and illustrate how your tool works. Finally, it will portray the solution to your problem through integration. By integrating, you can automate the software and save productive billable hours whether it be on making phone calls, shooting mails, or manual drudgery.
Simplification of a Complex Message: For a company looking to circulate technical and complicated products, motion graphics are the ideal medium to do that. For the general audience, it is an uphill task to fathom the mechanism of technical objects due to their complexity. Hence, it requires an in-depth illustration on behalf of the company to pitch their audience. However, most of the companies don't have the luxury to organize onsite interaction with potential clients due to financial drawbacks and time constraints. Even if they do so, it may not add the spark required for enchanting the audience. Here, motion graphics will come into play. With the incorporation of texts, graphics, voiceovers, and sounds, motion graphics has the fuel to communicate the exact message comprehensively to the prospects.
Benefits of Animation for Product Promotion:
Entrepreneurs invest a huge amount of money and time in designing their products including packaging. But all the endeavors and hard work are pointless if products are marketed inappropriately. Killer marketing is what is required for a business to come off. Online marketing is a smashing platform to execute effective marketing that can boost your business. Out of all the mediums available online, animation is the most beguiling medium that you can take advantage of. It enables you to customize your message to communicate with your prospect. With the proper application of the idea in animation, you can ace in your business in a short span.
A Way to Topple the Competitors: With the swift evolution of digital marketing, the market rivalry is mounting day by day. Every company is looking to stand out in the competition. An animated video with the combination of characters and other moving objects will allow you to add creativity, charm as well as state-of-the-art design. Apart from that, animation doesn't target people of any particular race, nationality, and age, unlike live-action video. This is a key factor as the internet has already become a global marketplace and comprehending this factor faster will help businesses to trounce the rivals.
A Tool to Avail as Explainer Video: Animated video is a magnificent vehicle to lay out the technical and sophisticated products online. While buying online, buyers always tend to relate themselves with the products. If they intend to snap up dresses, they imagine the situation, how they would appear with the dresses. An animator with knack and experience in animation can represent empathy in the viewers. That will not only publicize the products but also appeal to the viewers.
Online Presence Booster: By the passage of time, every business is seeking new and unique ways to circulate its business. There is no doubt at all that the creative animated videos are likely to viewers faster as compared to the other textual and visual contents. This is due to the fact that animations are all about fun and entertainment. It has the power to encapsulate ideas to potential customers gratifyingly. If the viewers like the animation, they will share it and aid to redouble the engagement.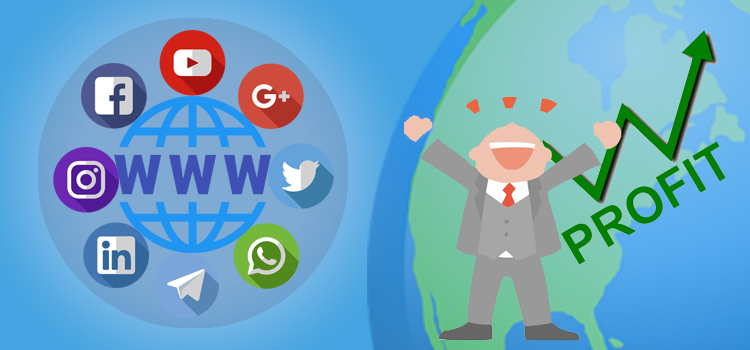 Optimizes Search Engine Result: Video supplements life to a website. Just like onlookers, Google also likes the presence of videos. With the incorporation of electrifying animated videos, a company can easily rank its website high in the search engine result. Besides, thrilling videos are also likely to receive backlinks. Even SEMrush, an SEO tool advises to include video contents to stand out from others. Google urges highly on the number of time visitors spend on the website and exhilarating videos can hold the visitors on the website for a longer time.
Time and Money Saving Content: Unlike live-action videos, animated videos are lucrative both temporally and financially. In live-action videos, what is deemed modern today is old-fashioned tomorrow as human styles and strategies transform rapidly. But animated videos require a rare update and this allows businesses to make productive animated videos lasting longer periods. This also makes the project cost-effective.
A Medium of Learning and Amazement: Animation educates as well as bewitches the viewers. As per Marketingcharts.com, consumers spend at least 2 minutes watching a video that enlightens them about a product which they plan to purchase. Animated videos are so graceful and exciting that they have the power to glue the viewers to the screen. This is one of the few mediums that can communicate emotion and happiness at the same time. An animation with enticing scripts and storylines can easily woo potential customers.
Latest Trends in Motion Graphics:
Kinetic Typography: Whether it is a television ad or a website content, animated content is a captivating tool for product marketing. In the world of motion graphics, it is in vogue at the moment. This is due to hook-grabbing features of kinetic typography. Right from stretching and twisting to shrinking and morphing, a motion graphic designer is able to customize texts as his will. Kinetic typography leverages simple animation to produce texts shifting across the screen.
Broken Text/Shattered Text: This is another supplementation of a typographic theme. It is a unique trend that takes the textual elements into a different level. The texts can be deconstructed and dispersed into the whole screen to create a cracking effect. Broken text enables you to add poetic feel and value to your animated video, thereby making your viewers mesmerized with the motion graphics. It is all about having fun and playing around with the texts.
Seamless Transitions: This is an old technique and never disappeared from the design industry. The motion graphic designers, with the amalgamation of contemporary techniques, apply these seamless transitions to smoothen and spice up the designs. It is all about maintaining fluidity in designs by not letting any cut in the scenes and any flaw in the morphing of one scene to another. This can be undoubtedly called an everlasting trend in the design industry.
Latest Trends in Animation:
Augmented Reality/Virtual Reality: These are some of the fastest trends that the world is witnessing currently. Both augmented and virtual reality can be utilized by companies with the inclusion of animation. They are handy tools to drive the audience to a marketing campaign. In augmented reality, a real-life environment is enhanced with the addition of computer-generated visuals, sounds, and effects to revamp real-life experience whereas virtual reality creates an artificial environment identical to real-life ambiance letting a user take part in the atmosphere. In comparison to endeavor and cost, the fictitious scene in these environments may be high, but in terms of creating impact and engaging audience with products, they are worth using in animation.
Integration of 2D and 3D: Animators are striving their heart and soul to create an innovative and grand user experience. Previously, we were used to watching 2D animations in various cartoons. With the amalgamation of retro 2D, contemporary 3D animation has been a fantastic tool for businesses to lure the audience towards their products. Along with playing around with the camera angles and movements, the animators can add substances of surprise. A combo of 2D and 3D is what makes this animation a trend of 2019.
Liquid Motion: In 3D animation, liquid motion is another fantastic tool to create an optimized look. Unlike grain which portrays more of a rigid and static look, liquid motion produces smooth transitions of the animation. It provides an organic feel to the animated content letting the visuals of the screen moving more naturally. Liquid motion allows each and every element of the animation to be free-flowing which enthralls the audience. As a result, the crack required to communicate the message to the audience automatically diminishes. Nowadays, many 2D animation studios and creative agencies are taking advantage of liquid motion and garnering desired fruit.
As stated earlier, motion graphics fall under animation but there is a notable distinction between the two. In this competitive age, if you want to excel, you have to think outside the box. Both motion graphics and animation have the charm to allure potential clients. With the proper application of these mediums utilizing knack and experience, you can do wonders for your business.
Color Experts International, Inc. is an eminent graphic design and photo retouching company with a special knack in motion graphics and animation. We have a pool of seasoned motion graphics designers and animators who are well-versed in this field. They are detail-oriented who focus on every bits and pieces of designs and accomplish the allotted tasks efficiently. We offer both motion graphics design and animation services at a competitive price. Besides, we provide clipping path, image masking, background removal, ghost mannequin, raster and vector illustration, image color correction, image restoration, image shadow services as well.
If you are in need of motion graphics or animation service, don't fret. Just contact us through our mailing address. You can also ping us through our Facebook page if you have any queries. So, without any further delay, communicate with us and take advantage of our best in class services.