What can be the best way to communicate certain ideas or messages in the latest digital form? Undoubtedly, it's a graphic design that is broadly used in almost every sphere of our regular activities. In other words, it's also recognized as communication design in terms of the power of connecting elements to focus the message visually.
Well! It has several categories that require particular skills and techniques. That's why we come up with the different types of graphic design along with their specializations to let you know in detail. As a designer, you can focus either on a single type or a set of multiple genres together. You can go through our post where we described different types of designers.
Table of Contents
Different Types of Graphic Design
What Skills Does A Graphic Designer Need?
What is Graphic Design?
So, as a beginner in this journey, you must have the query on your mind- What is graphic design, actually? Is it only about designing objects with varieties of elements to beautify or make them professionally presentable? Not really! To better understand the graphic design definition, you must be familiar with the elements that help to create attractive and impactful designs.
These include the components likely forms, colors, shapes, texture, typography, iconography, and more. And, it defines the way of creating and developing interactive visual images through the best uses of technology, creative thinking, and necessary graphic elements.
Why Should You Care About It?
You will find the flavor of design everywhere around you. No doubt, it plays a vital role in both personal and professional areas. In this case, let's drive to the points to find out the reasons why graphic design is essential!
To establish a company name or brand, graphic design truly helps in different aspects. As an entrepreneur, you must have the dream of making your brand memorable like Adidas, FedEx, Apple, or Amazon. So, what made them remarkable from the other competitors? It's their uniqueness in design, color, and typography. These are the things that created a global brand value.
Creates Positive Impressions
How will you create a memorable impression when an audience visits your business? The graphical views make sense in this case that tells the story of your brand. Whether you interact with the customer through a website, social media, business card, or online ad, you must have the ability to create positive impressions using professional graphical elements. That's how a strong business relationship and awareness are built.
Way to Showcase Creativity
What can be the best thing to showcase your creativity in modern business? Well! Graphic design is the factor that can help you reach the destination and make a difference from your competitors. Business nowadays is not only about giving the best things or services. It's also the creativity to make engagement with the audience and build trust. People love innovative things that connect their minds and hearts. All in all, it's the ultimate way to snatch attention quickly.
Professionalism and Business Growth
Graphic design is also subject to encourage professionalism towards vendors and clients. Many of them focus on a simple logo or banner of your business to understand the depth and message. The more professionalism grows, the more you get the ways of expanding the business as well. A good and attractive design can generate interest and make customers stay on your site to buy something. Otherwise, you might lose potential clients. As a result, it may hamper business growth by reducing sales.
Different Types of Graphic Design
No matter whether you are an ambitious designer or a potential client in search of taking services, you must be acknowledged of the types of graphics. Here, we come with various genres in the industry so that you may make the right decision in both ways.
1. Advertising Graphic Design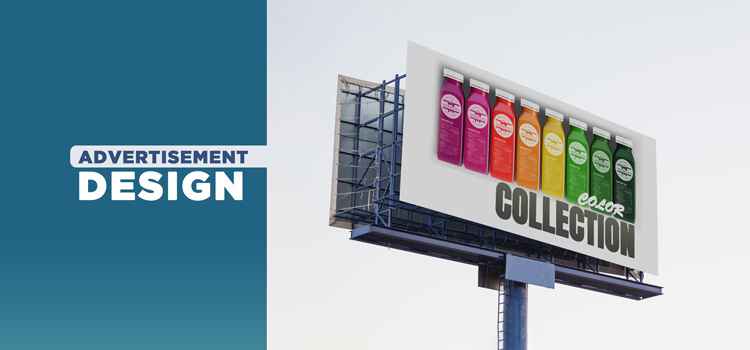 Advertising design is one of the most common and popular genres of the graphic design industry. It deals with creating visual artwork in postcards, flyers, magazines, newspapers, brochures, email templates, and other materials for promoting products or services. This is how the effort of great marketing reaches a new level to engage the target audience in terms of their needs.
Small to large, both sized companies contact graphic designers to create impressive designs to capture consumers' minds. New learners in the design industry love to start with this category to sharpen their skills. Here are some of its types-
Magazine & Newspaper Ads
Infographics
Display Ads
Direct Mail & Personal Ads
Social Media Ads
Email Templates
Websites & Blogs
Video Ads
Examples of Some Great Advertising Designs: Mohawk Airline, Starbucks, McDonald's, Volkswagen Beetle.
2. Corporate Design
Every business has a different story to tell and the way it explores is recognized as a corporate design. In general, it defines a brand through the artistic representation of logo, colors, and modern typography that differs from others. To do so, you may discover the vision, mission, and policy of your business first. Whether it becomes clear to the designer, then he/she might think of the designing part. The elements you should cover in this case are likely-
Logo
Typography
Colors
Quality
Branding
Corporate Culture.
In other words, corporate design is defined as the DNA of a company. The reason is it lets you express the vision and values as well. A future brand is born with just simple elements.
Examples of Some Great Corporate Designs: Adam & Eve Law Firm, Benevolent Society, Cooper & Ford, Konad Nails, The Jupiter Drawing Room.
3. Art & Illustration for Graphic Design
Although graphic design and art & illustration cannot be categorized into the same field, they have a strong relationship in creating amazing artwork together. That's why we keep it as one of the vital genres in the design industry. The elements are mostly used in multiple sectors likely magazines, posters, games, motion graphics, t-shirt designs, websites, book covers, infographics, and many more. In a way, it's a collaboration of artworks between graphic artists and illustrators. To be skilled in this category, you must be familiar with-
Unique Styles
Creativity
Communication
Drawing and IT Skills
Branding
Examples of Some Great Art & Illustration Designs: Dual Brush-Pen ABT, Glamora, Hello Buckwild, Smogj Crafts.
4. Environmental Graphic Design
Environmental design is a broad type of design that connects people to places and explains a story through various elements like colors, patterns, typography, materials, and so on. It occupies a lot of professional disciplines, including landscape, interior, architecture, and industrial design. In other words, it's known as Experimental Graphic Design as well.
As a result, it requires multi-skills to be experts in the category. You must be familiar with the architectural plans whether you are planning to design architectural views. On the other hand, you should have knowledge of interior design to beautify the inner parts.  As a designer, you'll need to be skilled on-
Strong Visual Sense
Communications Skills
Signage Printing
Office Branding
Exhibition and Exhibit Design
Blueprints and Digital Files
Examples of Some Great Environmental Designs: Archigraphia Redux, Museum of the Bible, Little Jean café, Vancouver Community Library.
5. Packaging Design
Once again, packaging design is one of the most popular types of graphic design that is mostly used as a marketing tool on a regular basis to grab customers' attention quickly. In other words, it works as a method of protecting the product as well as showcasing the brand story in an artistic way. As a designer, you must have knowledge of industrial design, branding, current trends, illustrations, and manufacturing. The elements it may use are likely-
Box and Paper
Bottle
Bag
Can/ Container
Plastic
Glass and Metals
Examples of Some Great Packaging Designs: Callaly, Just Laid, Manos de Cacao, Nyc Spaghetti.
6. Publication Design
In the field of digital publication, graphic design has great value to establish communication between the audience and editors, and publishers. This type is commonly known as publication design which deals with books, magazines, annual reports, directories, newspapers, journals, comics, and product catalogs. In this case, each element is important as they have different natures and purposes.  Also, there are some crucial skills that a good designer must be familiar with.
Typography
Design and Layout
Illustrations
Infographics
Color Management
Apart from these, he/she should have an understanding of publication types and messages. That's how the design will express the theme.
Examples of Some Great Publication Designs: Azure Magazine, Gopher illustrated Navigator's Council Journal, Wooden Toy Magazine.
7. UI Design
User Interface (UI) is a widely used term in modern design for both web and graphic industries. UI design refers to the process of making all things easier and user-friendly to the users while they interact with an application or device. In short, it's all about balancing the outlook along with the technical functionality. A UI designer ensures how an audience feels and reacts to the components of a digital product. He/ She must be familiar with the skills likely-
UI/ UX principles
Responsive Web Design
Minimalist Graphic Design
Interface Elements
HTML, CSS, JavaScript
Color, Brightness, & Contrast
Brand Consistency
 Examples of Some Great UI Designs: Boosted Boards, Dropbox, Frank and Oak, Virgin America.
8. Motion Graphic Design
To be precious, motion design is the process of designing elements like typography, imagery, audio, video, or animation that are in motion. This one is among the modern and widely used categories in online media, television, website, and many more sectors. It has the power to communicate with the viewer and express the depth of the story in a compelling way. Some of the examples are-
Advertisements
Animated logos/ Text
Film Title Design
Presentations
Websites & Banners
Video Games
GIFs
Because of the high demand and importance of motion graphics in different industries, designers have great opportunities to build their careers in this genre.
Examples of Some Great Motion Graphics: Game of Thrones- An Animated Journey, Vodalabs – Digital Alchemists, Kinetic Calendar, Journey Alpha.
9. Website Graphic Design
If you have the plan to build your website in the most unique and professional way, professional graphic design services can give you the right way to make it pleasing and user-friendly. An appealing design can bring you the ultimate result for your business with less effort. Web graphic design is among the categories of graphic design that deals with the web layout, images, colors, textual elements, and many more to achieve the best user experience.
Also, it's a great element to get engagement with a targeted audience that helps to increase the sales of a business. In that case, you must have the skills to be a successful designer.
Visual Design
Print Design
HTML & CSS
Design Software
Examples of Some Great Website Designs: Annatwelve – Fragrances, Cartier Watchmaking Encounters, Edifian Digital, Mikiya Kobayashi.
Here are a few more graphic design portfolio examples to get you started.
10. Vehicle Wrap Design
Vehicle wrap design has been a popular form in the modern graphic design industry. It occupies a great value in terms of marketing and advertising of a product or service. The designer expresses something excellent in a very small space with his/ her creativity to grab the maximum attention. In order to start designing the object, it needs proper information along with some technical things to get inspiration. Here are some examples of the vehicles where you may implement the design-
Sports Cars
Pickup Trucks
Vans/ Mini-Vans
Sport Utility Vehicles
Sedan
Coupe
 Examples of Some Great Vehicle Wrap Designs:  FESPA, FoilX, Real Madrid- Emirates, Signs Express Southampton.
11. Stationery Design
It is essential to have a whole pack stationery design if you want to have great branding throughout your organization. Almost every business owner understands the importance of having stationery design. It conveys a great deal of information about a business and that makes customers trust the brand. So, what exactly does this design imply? It's a broad term that includes office or business supplies, as well as other paper items. Here are a few examples of stationery design items.
Writing equipment
Envelope
Business card
Postcard
Letterhead
Examples of Some Stationery Designs: Due North, Ji & Chang, The Slanted Door, Matteo Belgeri, Mimosa.
12. Book Cover or Mockup Design
People will assess a book based on what the author says throughout his or her work. But, since the cover is the gateway to your book's soul, you'll see whether it's attractive or not, right? Generally, people focus on the content and design of a book before making a purchase. But you also need to circulate your asset fruitfully to grab their attention.
That's where you need proper marketing making use of a stellar mockup design along with the content. In a nutshell, this mockup design gives a finishing touch to your actual content. Here are some samples of book cover mockups in which you may incorporate your design.
Notebook
Open Book
Hardcover Open Book
Square Book
Landscape Book
Stacked Book
Examples of Some Book Cover/Mockup Designs: Galloway's Justice, The Godfather, The Fault in Our Stars, Make Way For Her.
13. Mishko Art
Many of you have probably seen this sense of style before. Misho art or effects are sometimes referred to as "Melt Text" design. You can apply this design to your text or vector image to make it appear mysterious to your audience.
So far, motion blurring or motion graphics come first in this design. A minor distortion can make your design appear a lot more intriguing and fantasy-like. Here're some of the Mishko Art examples in which your design can be implemented.
Typography
Motion Graphics
Cover Art
Aurora
Distort Illustration
Examples of Some Misho Art Designs: Prosaic Polaroid, Sleep Thru the Sadness, Gold dope.
What Skills Does A Graphic Designer Need?
So, if you intend to start your journey as a professional, you must be familiar with the responsibilities of a graphic designer. Like other areas, it also needs particular skills. These are most common in the circulars while recruiters find the best candidates for design jobs.
Software Skills: How a company or media house will choose you as an expert designer? It's essential to be familiar with the most popular and best software for designers in the market like Adobe Photoshop, Illustrator, and InDesign. Actually, there are the basics to learn before you apply for a job in the concerning field.
Creativity: A good designer must have the creativity to visualize the message in the proper way with the elements surrounding him/her. It's not only about the skills of any photo editing tools like Photoshop or Lightroom. You have to bring innovative ideas to make design unique and meaningful at the same time.
Coding Knowledge: Well! It's not like working as a professional coder. Nobody even expects this! But, in the era of modern technology, having a good sense of coding may take you to the next level than the other candidates. In most cases, a basic understanding of HTML is common. Besides this, learning C++ and Java is also great.
UI/ UX Design: Having a good sense of User Interface Design and User Experience design is undoubtedly a remarkable skill for a graphic designer. It helps to understand the feeling of the audience for whom you are going to make the design. Also, the opportunity increases much more in many international and high-paying jobs if you occupy this demanding skill.
Experience: To apply to a reputed farm as a mid-level or senior designer for ensuring better benefits, you must gain experience. In most cases, companies expect to have candidates with 2-3 years of experience. The best practice to achieve it is to prepare a strong portfolio by working on various international marketplaces.
Certification/ Course: We recommend pursuing an institutional certification or degree from renowned school. Most of the bigger companies nowadays are preferring candidates who have a bachelor's degree in graphic design. So, if you have the dream of building a career as a designer, take the chance to get a degree or any popular online course to sharpen design skills first. It will surely increase the chance to get hired by larger communities and companies.
To Conclude
Many people would like to say- Is graphic design a good career? Well! It depends on some particular facts and gaining the skills recommended by professionals. Like other creative works, it requires passion, creativity, and hard work to reach the destination. Before that, don't forget to go through the main graphic design areas we mentioned above. Hopefully, it would be a great resource for you if you really intend to start your journey in this field.