Neck Joint / Ghost Mannequin Service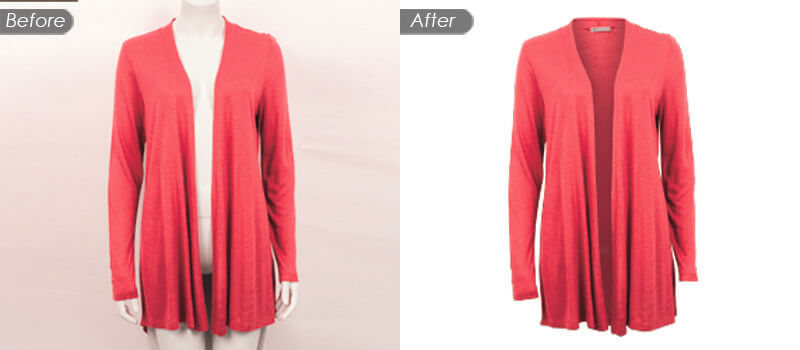 Neck joint service is generally known as ghost mannequin or invisible mannequin  service. For creating 2D and 3D shape of various garment items, plastic dolls are used instead of human figure. For example- shirts, pants, jacket, cardigan, swim suit, bra, panty etc.
Generally by investing little amount of money, photographers use small studios to shoot variously shaped ghost mannequins wearing garment items in real shape from various angles depending on the products. At the same time, they shot the neck and inner part of the product separately.
Photographers use plastic dolls instead of human body to save cost. By using neck joint service, it is possible to shoot various products images within a very short time.
As the value of time is more to the photographers than the graphic designers, that's why they use these raw images to combine the front image and inner/ neck image and remove doll and studio background in Photoshop which gives the product a real view. By using various graphic design companies, photographers can complete these works easily at a very competitive price.
By using the same procedure bad wrinkle, dust, spot, dump, cropping, resizing, straightens, shadow are removed, added and re-shaped to increase the beauty of products. These output products are used directly by customers and photographers to promote and sell so that they can attract the customers easily.
Ghost Mannequin or Neck Joint Service Categories
Based on the work types and complexities, ghost mannequin/invisible mannequin services are classified into the following categories:
2D joint for example neck joint
3D joint for example neck, sleeve etc. joint.
Hoody type joint for example hoody jacket.
Jewelry neck combination
Scarf neck combination
How do we do this?
Besides, a transparent doll is used by combining the front and inner part of products which make them usable. Later, clipping path is applied to the front and inner part by joining them and then background is removed. In this case, the inner part becomes foggy/ fuzzy and out of focus. So, Photoshop retouching, color correction, brightness, contrast, sharpening etc. are applied to create a real view.
Who Can Take this service?
E-commerce sites
Magazines
Printing
Annual Reports
Ad Agencies
Other different websites use this service.