50 Best Free Handwritten Fonts For Graphic Designers.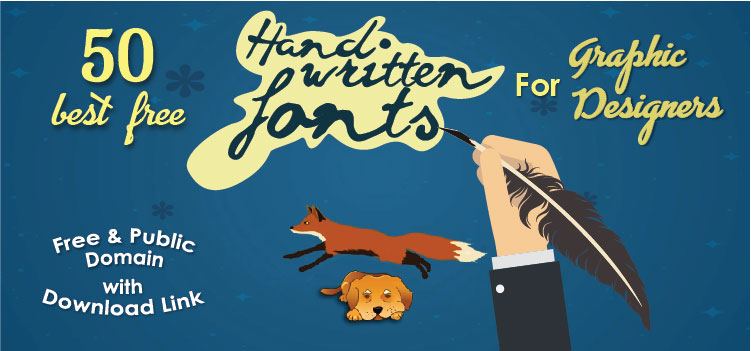 See our other font list published earlier
To save time, you can take a pen/pencil and see the font you like in our video below and note them down.
Have a look at the video above that lists all the fonts listed here. Just get a pen/pencil and note down the ones you like most.
Skinny-notfon: This is a thin, rustic, and real handwritten font that can be used in various purposes. If the project demands, the designers can use this font completely free, even commercially. Skinny notfon provides two font files which are worthy of applying in various cards, wallpaper, calendar, poster, and something like this.

Sabrina Font: This handwritten font is created by Alphabet & Type being inspired from a movie. It is the original font that is shown in that movie. It is a very suitable font for the designers to apply in their designs, especially card designs, banner, poster, various print layouts, clothes, cover pages, and even in designing logo for branding.

Hashtag font: Earlier, this font was premium, latter in a declaration the author makes the font free for personal and commercial use. But, you cannot modify or upload elsewhere and you will not get any warranty associated with this font. Anyway, you can use this font for any of your graphic designs like cards, clothes, cover pages, poster, print layouts, product brochures, and many more.

Genesis font: The font is made based on the author's actual handwriting using mouse. This font is free for personal and commercial use and if it needs, you design it. Further, you can redistribute this font also. You need no to credit the author for using this font. So, you can use this very font in anywhere and in any of your designs like graphic images, videos, applications, and more.

Goodvibes: This is a cool handwritten typeface can be used free for personal and commercial purposes for the graphic designer. They can use this font in their favorite artwork to create extra charm and make the designs lucrative and grandeur. You can download this font for applying in your graphic artworks from the link below.

Malam font: This handwritten font face is nice to look. Graphic designers can use the font in any designs like T-shirts, card designs, Cover pages of the book and magazines, Flyer & leaflets, poster & banner, product packaging & brochure, logo for branding & marketing, and many more. This cool handwritten font will add a special flavor in your artwork.

Phontphreaks: This thin and bent forward handwritten font can be a good choice for the designs of artworks. Graphic designers can apply this font in their designs like various types of clothes, cards, poster, banners, flyers & leaflets, calendar, wallpaper & wall mate, and something like the mentioned graphic works with completely free of cost, because this font is free for personal and commercial use. Download the font and use where you like.

Ylee-mhim: The Korean style thin hand written font look great and its OTF is now available for Mac users. There are a bounty of symbols, icons, glyphs, and punctuations. The font is suitable for East-Asian artwork as its font face is like the text of the Korean Alphabet. Anyway, this font is free for commercial and personal use.

Love3 font: This handwritten is very lovely to look and to be used in various graphic designs like T-shirts, gift cards, logo, banner, poster, product artwork, cover pages of book and magazines, and many more. The designers can use this font free for commercial and personal use.

Catcafe font: It is one of the most popular fonts for the graphic designers. They can use the font for both commercial and personal use without any cost. They can apply the font in all of their text based fonts like various types of cards, T-shirts, product packaging, cover pages, and many more.

Writing-is-hard: It is a gentle and light handwritten thin font that is very lovely and decent for any artwork. According to the projects' necessity, the graphic experts can utilize this elegant but sober font in their designs. This awesome typeface is free for commercial and personal utilization.

Augie font: This great and grand handwritten typeface is outstanding for the graphic designers. They can use this font in their artworks to achieve high end graphic quality. You can use this nicely presentable font face in your favorite works without any cost that means this font is totally free for personal and commercial advantages.

Ampersand font: This fantastic and fabulous font is really looked handwritten typeface. It is already popular to the graphic designers because it is 100% free for any type of use. You can download this font from the below link and apply to all of your text based graphical works. It will add pompous and festive attitude in your designs.

Timkid font: It is a bold or semi bold handwritten type font that can be a great addition in your designs. This font is completely free. You can utilize this type face anywhere you desire. You can enhance the beauty, quality, and magnificence of your works. This font is suitable for various clothes designs, cards, logo, banner, poster, cover pages, and many more.

Cute-font: It is cool, cute, but sophisticated font face to be used in various types of graphical artworks such as wedding cards, invitation cards, cover pages, T-shirts, poster, banner, logotype, and so on. Anyway, it is a good thing that this font is free of cost personally and commercially. You can also use this font for your designs that will get an awesome look coming in touch of such a catchy font face.

Lush font: This great looking handwritten font is pretty much favorite font to the graphic designers. It is completely free for commercial and individual use. You can get it from the link below and enhance the ultimate efficiency. The font is perfect for wedding card design, inviting card, cover pages, and some other designs.

Southpaw font: This fantastic handwritten font is fabulous than most other font among the graphic experts. It is beyond description how influential the font is. Because of its free monetary use, you can utilize this font in any of your awesome graphical assets.

Nanda font: Among the fonts which are so much elegant and gorgeous, Nanda is one of them. This popular handwritten typeface is appreciated by the globally well-known graphic designers. It can be utilized completely free of cost. So, you can apply in any of your text based design such as assorted cards, top pages of magazines and Books, clothes of young stars, political & cultural banners & posters, and many more.

Shmess font: There are so many outstanding and fabulous handwritten fonts and shmess is one of such an elegant type faces. This font is freely usable in any of your personal and profitable graphical works. It's fit for any of your designs I. e. posters, banners, T-shirts, flyers & leaflet, print layouts, etc.

Sweetie-pie: It is an adorable cutesy handwritten type font which thin font face is usually utilized for many text-oriented graphical artworks, for instance, assorted inviting cards, advertising banner, poster, and flyer, T-shirts, shopping bags, and even in presentations. You can take this font without money for personal use and even for profitable business.

: Clipping Path, Graphics Design, Photo Editing, Photoshop, Tutorial